Michael Green Architects just announced plans to break ground on the tallest building made of wood in North America. The Wood Innovation and Design Center in Prince George, British Columbia is a 90-foot-tall tower that showcases new methods for building with wood.
Read more: Construction Set to Begin on North America's Tallest Wooden Structure | Inhabitat – Sustainable Design Innovation, Eco Architecture, Green BuildingThe Wood Innovation and Design Centre will rise six stories, but because of mezzanines and double-height floors, will be equivalent in height to a nine story building. The $25 million dollar project is planned to put Canada on the map as the forerunner of wooden buildings, in direct competition with projects in the UK and Australia.
Construction is set to begin this spring, and will be complete by June 2014. Once finished, the center will act as a model for future projects, with anticipation of wooden buildings exceeding thirty stories in the future. Although the hope is for other cities to follow suit, but Prince George will have the distinction of being the first.
PCL Constructors Westcoast Inc will construct the building in collaboration with Michael Green Architecture, and will showcase new techniques developed by both contractors. Their own development, called Finding the Forest Through the Trees (FFTT) combines high design and fire safety standards that equal those of steel and concrete structures. Lead by Michael Green, the building will serve as a beacon of sustainable architecture for the future.
Read more: Construction Set to Begin on North America's Tallest Wooden Structure | Inhabitat – Sustainable Design Innovation, Eco Architecture, Green Building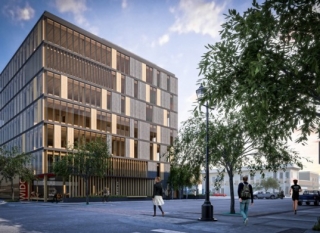 Source: http://inhabitat.com/wood-innovation-design-center-construction-set-to-begin-on-north-americas-tallest-wooden-structure/